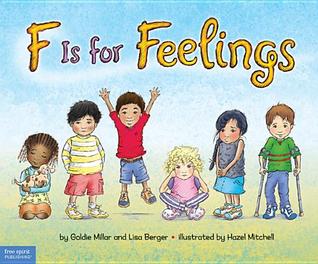 Paperback, 40 pages
Free Spirit Publishing
Young children often need help learning and practicing their "feelings words" so they can express themselves well. When children learn from an early age to share their feelings in clear and healthy ways, they are more likely to grow into adults who feel capable of handling life's challenges. Friendly and positive, this picture book uses an alphabet-book format to share and reinforce emotional language and the ideas that while some feelings are more comfortable than others, all emotions are natural and important. Charming, colorful illustrations accompany the sweet and simple text. A section in the back provides tips and activities for parents and caregivers to reinforce the themes and lessons of the book.
I liked this book. A lot.
At first glance of the cover, well, I didn't really care at all and almost skipped it. But then I think, hey, I could learn something from this, and teach or share something to my nieces and nephews.
And I'm so glad I decided to read the book.
I didn't think that feelings can be listed in alphabet. I learned psychology and I should've known that there are lots of emotions. But since there are some basic, so sometimes I just paid attention on that. My bad!
Anyway, so I started reading the book, stopped in every alphabet and emotion, trying to understand and to translate it in bahasa. I also imagined it what to explain to my nieces and nephews once I get the chance to read this book with them. Although it might need some effort, the illustration and the example in every alphabet and emotion was very helpful. It helps the reader to differentiate between one emotion to the other.
Yes, this book is great for children. But for a grown up who would deal with kids, this book gives the activity guide for adults so that they can increasing the value of the book for the young readers. For example: how to explore, share and discuss the content of the book, the feeling. We can start from any emotion that interest us most.
There are lots of people out there (kids and adults) who have difficulties in expressing their emotions. Sometimes they put the wrong label for what they actually feel because they don't really understand the feeling and themselves. I do, too, sometimes. So this book would be a great start to understand about feeling better.
I really really think this is a great book and I can't wait to read and share it with my nieces and nephews.
I received the e-ARC via Net Galley. Thank you so much!